Dead ponies 'dumped like rubbish' in East Leake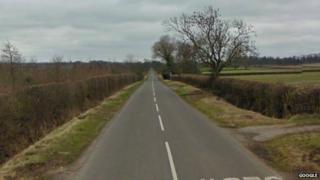 The RSPCA has described as "sickening" the discovery of five dead ponies "dumped like rubbish" in a Nottinghamshire village.
A member of the public alerted the police after finding the animals on a bridleway on Rempstone Road, East Leake, on Tuesday.
Inspector Clint Davies believes the ponies were neglected before they died.
An investigation has been launched and the RSPCA wants to hear from anyone who saw anything suspicious.
WARNING: some readers may find the images below disturbing.
Mr Davies said: "They were young horses in various states of decomposition.
"That says to me it's been going on for some time and then when all of them have died they've loaded them onto the truck and taken them up to this area."
'Like fly-tipping'
The RSPCA has released photos of the dead ponies which were found were piled on top of each other.
"It's a bit like fly-tipping," he said.
"These horses were just basically dumped like rubbish into this gateway."
He said the owner should have sought veterinary help instead of letting the ponies die.
"They didn't get into this condition overnight," he said.
"We can only speculate how they've died but they weren't in particularly good condition from what we could see from the bodies."