Nottingham chemist Martyn Poliakoff is knighted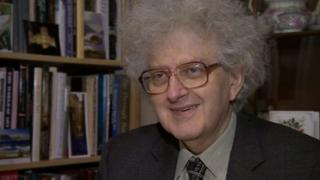 A Nottingham chemist who became an internet hit has been knighted in the New Year Honours.
Professor Martyn Poliakoff has been awarded the honour for services to the chemical sciences.
His YouTube videos about the periodic table have been viewed millions of times.
Tamsin Baldwin and Rachel Wakeman, of child abuse advice company Imara, are appointed OBE for services to child protection.
Professor Poliakoff, the Foreign Secretary of the Royal Society, has been based at the University of Nottingham since 1979.
"I am excited and a bit overwhelmed. I am pleased but also see this as recognition for my team and all those who helped me with the periodic table project.
"Probably the most gratifying thing is the people who say watching those videos made them want to become chemists."
Also appointed OBE, for services to entrepreneurship, is Surat Singh Sangha, managing director of Nottingham-based Asiana Ltd, a food importation and supermarket business.
Sharon Willet, a customer service assistant who works at Newark railway station, has been appointed MBE for services to rail passengers.
Mrs Willet trained with the Samaritans and is credited with saving the life of a 15-year-old at Newark. She travels across the country raising awareness of their work.
Recipients of the British Empire Medal are June Heald, for services to the community in Selston, and Jean Greenwood, lead volunteer on Rushcliffe Neighbourhood Policing Team, also for services to the local community.