A453 road tribute to Afghanistan war dead considered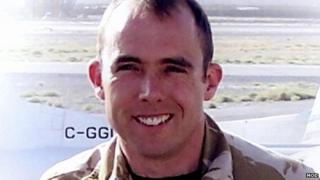 A plan to name a new dual carriageway in honour of British soldiers killed in Afghanistan is being considered.
The A453 - which runs from Nottingham into Leicestershire - bears the same number as the total amount of British losses during the conflict.
The family of Warrant Officer Sean Upton, a Nottinghamshire soldier killed by an explosion while on patrol in 2009, proposed the idea.
Nottingham City Council confirmed it was looking into the idea.
A spokesman said: "We've recently received the renaming request from the Upton family via the Highways Agency and will consider them along with other affected councils."
The A453 is covered by two other authorities, North West Leicestershire District Council and Rushcliffe Borough Council.
Suggestions for the name change include Heroes' Way or Bastion Way.
A BBC Radio Nottingham listener, who served in Afghanistan, texted the station with the idea.
This was heard on air by relatives of WO Upton, 35, from Beeston Rylands, who was killed by a roadside bomb in Helmand Province
If approved, the road renaming is likely to be similar to the A52 Derby Road, which connects Nottingham with Derby, and was renamed Brian Clough Way in 2005.
It is still officially called Derby Road for practical reasons such as postal addresses, but has additional signs saying Brian Clough Way.
Sean's family said they were very proud to have Brian Clough Way in the city and thought a road named in honour of those who died in Afghanistan was a fitting tribute.
Nottingham South MP Lillian Greenwood said she supported the plans.
She said: "People spend a lot of time on that road and it would be no bad thing for people to remember the human costs of war and the 453 people who gave their lives in Afghanistan."
Other ideas include planting poppies along the route.