Gedling MP Vernon Coaker to lead review of snow response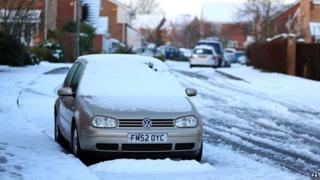 A Nottinghamshire MP is to meet county council officials to review the response to recent heavy snow.
Several inches of snow fell overnight on 26 December with roads and council services disrupted for days afterwards.
Gedling Labour MP Vernon Coaker said he received a large number of complaints from residents and wanted to know if things could have been handled better.
Council officials said gritting staff had worked hard but it was willing to see if lessons could be learned.
The private meeting will be held later and will also be attended by the health services, police, Gedling Homes and Gedling Borough Council.
Mr Coaker said: "It was a serious situation. There were lots of buses that could not run, there were grit bins that were not refilled.
"I think any reasonable person, where such problems had arisen, would want us to get together to see what more could be done.
"People are realistic about what can be done and Gedling is hilly which causes problems.
"But if buses are struggling in one place but just streets away they are running, maybe there is an organisational issue."
Andy Warrington, county council service director, said: "The gritting drivers worked all the way through that Boxing Day night and through the Saturday in difficult conditions.
"But it is good to review after such a weather event and we will be interested to hear from these organisations about what it was like at a local level."