University of Nottingham laboratory fire caused by electrical fault, says report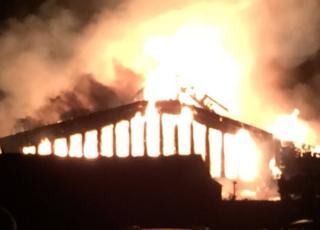 A fire that destroyed an unfinished University of Nottingham laboratory was most likely caused by an electrical fault, the fire service has said.
The £20m wooden-framed GlaxoSmithKline building, on the Jubilee Campus in Radford, burnt down in September.
The report said there were no fire doors or windows, allowing the blaze to spread with "ferocity".
The university said it was satisfied its contractors met its health and safety requirements.
Nottinghamshire Fire and Rescue deputy chief officer Wayne Bowcock's report said the fire started because of a fault with the temporary power supply to the building, which was about 70% complete.
"Without fire doors or in some areas glazing, there were open voids between floors," it said.
"This caused the building to be self-ventilating and once the fire had taken hold it then passed through the building rapidly and with some ferocity."
A new lab is currently under construction, using the same design principle as before and which will be "indistinguishable" from the previous building, contractor Morgan Sindall said.
The firm said it was working with the Health and Safety Executive to identify "additional areas for learning" and was adhering to new guidance on timber frame buildings issued since the blaze.
A university spokeswoman said: "Although the probable cause is identified as a fault on the temporary electrical supplies on the site, as stated in the report, the fire service is satisfied that everything possible was done by the contractor in terms of checking the safety of any electrical appliance used on the construction site."
She added the report "validates" the design of the timber building, which had been due to open this year.