Carol Vaughan inquest: Vulnerable patient 'not properly supervised'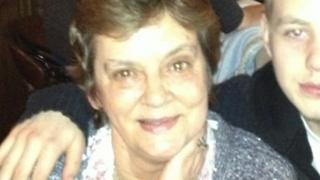 A coroner has criticised a mental health care unit for lack of supervision after the death of a woman who was found in a reservoir.
The inquest heard Carol Vaughan, 61, made several attempts to take her life after she was admitted to the Millbrook Mental Health Unit in Nottinghamshire.
She was found in a reservoir behind the unit on 14 January last year and later died of hypothermia.
The trust responsible said "significant changes" had been made.
The inquest was told that staff only noticed that Mrs Vaughan was missing 45 minutes after she left the unit.
Cigarette break
Coroner Mairin Casey was told that Mrs Vaughan said she was going out for a cigarette but she failed to return.
The inquest at Nottingham Coroner's Court heard that Mrs Vaughan, who moved to Nottinghamshire from Lincolnshire to be closer to family, was a vulnerable patient who had been diagnosed as being bi-polar 25 years ago.
She was transferred to Nottinghamshire Healthcare NHS Trust in 2012 and hospitalised after taking an overdose.
Mrs Vaughan's daughter, Karen Green, from Coddington, Nottinghamshire, and a police officer found her in the reservoir, but she was pronounced dead shortly afterwards.
Miss Casey said there was a lack of communication with Mrs Vaughan's family and community health staff, and a poor understanding that the patient might harm herself.
The coroner said there was "no proper consideration of appropriate supervision of the patient when she was allowed off the ward" and "no appropriate record keeping", she added.
Ms Green said: "Her death could have been prevented. The smoking area should have been supervised.
"They were responsible for checking on her after 15 minutes, but the fact that they waited 45 minutes would have made the difference between life or death."
Nottinghamshire Healthcare NHS Trust, which runs the unit, said it had carried out a "thorough internal investigation" to review the support and care.
Changes included better communication with patients' families about medication, and arranging leave for patients.