Plan for £5.2m business hub shaped like bicycle wheel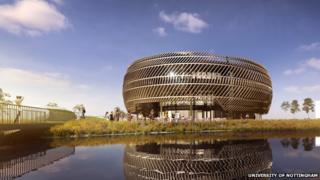 A new £5.2m business hub has been designed like a bicycle wheel in honour of the Raleigh factory which once stood at the proposed site in Nottingham.
The University of Nottingham has submitted plans to the city council to build the centre on its Jubilee Campus, in Radford, where the cycles were made.
The university said the building's design was a deliberate nod to the heritage of the area.
Raleigh bicycles were made in Triumph Road for about 100 years.
The University's director of business and innovation, Mike Carr, said: "The architects came up with the circular design as a link to the past, the past of Raleigh, the wheel, the bike.
"In the centre of that will be a hub and that will be supporting businesses to grow as part of Nottingham's ambitions.
"On top of that we want to support and grow our student enterprise and provide them with better facilities and support."
Raleigh, famous for its Chopper model, used to employ about 10,000 people at its Nottingham factory making about two million bikes every year.
However, due to increasing global competition and cheaper imports, the Triumph Road factory closed in 2002.
The site has since been used as a campus for the University of Nottingham.