Newark Castle transformation plan unveiled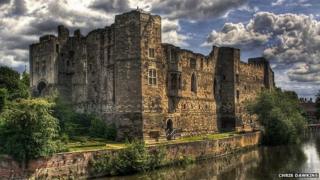 Part of a 12th Century castle badly damaged during the English Civil War could be transformed into a major tourist attraction, under new plans.
Officials want to turn the gatehouse at Newark Castle, in Nottinghamshire, into an education centre.
The £800,000 project would feature exhibits about the town's history and the castle's turbulent past.
Newark and Sherwood District Council, which owns the site, is applying for Heritage Lottery funding.
The authority said the castle, which was largely reduced to a shell after Oliver Cromwell ordered it to be demolished in 1646, is an important part of the town's heritage.
If a funding bid is successful, the gatehouse would be fitted with a new roof and floor, with access to the castle's north west tower opened up.
The space would be used to tell the story of King John - who died at the castle in 1216 - along with exhibits about siege warfare and crime and punishment under Norman rule.
---
Potted history of Newark Castle
Construction of Newark Castle, which was originally built as a bishop's palace, started in 1123
King John died there in 1216 after contracting dysentery during a campaign in eastern England
During the English Civil War, the castle withstood three sieges by Parliamentarian rebels, in 1642, 1644 and 1646
In 1889, the castle opened a new garden in honour of Queen Victoria, who was celebrating her 70th birthday
A Heritage Lottery grant in 2000 allowed the refurbishment of the garden, which included the building of a bandstand - which featured on the original Victorian plans
---
Phil Beard, from the district council, said: "It will add to what we already have on offer at the castle and link in with the new national Civil War Museum.
"We could have two fantastic visitor attractions in the town."
He said the castle currently costs in the region of £70,000 to run and attracts about 150,000 visitors a year.
It is hoped the new attraction will increase visitor numbers.
The bid, which will be submitted in February, is also being backed by the Gilstrap Charity, which promotes places of historical interest in the town.