Facebook block for Hungary on Notts County page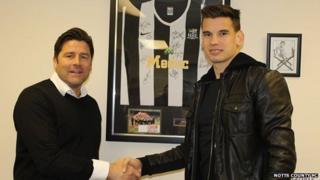 The whole of Hungary has been blocked from Notts County football club's Facebook page after it was deluged with comments concerning a new player.
The posts were prompted by the signing of Hungarian striker Balint Bajner, 24, from Ipswich Town, on Tuesday.
In August, Ipswich's Facebook page was swamped by comments saying "No Bajner, no party!" after he was dropped.
Notts County said the posts were taken in fun but had now had to take "drastic" action to control them.
'Blurring the waters'
Jamie Dixon, head of media, said the club's Facebook page had had an "unprecedented" amount of traffic on Tuesday, with 1,700 new likes in two days.
"Anything we posted got a good number of Balint Bajner posts within a few minutes and it just grew and grew," he said.
"It was all taken in good fun but then we did have to appreciate that it was blurring the waters for everyone else on the page."
He said the communications team tried controlling the traffic by blocking certain keywords but with no effect, so all messages from Hungary have now been blocked.
Facebook gives administrators the option of blocking content from certain parts of the world.
"We had to take the rather drastic step of blocking Hungary," said Mr Dixon.
"Hopefully, [it is] just a temporary measure. We have set up a Hungarian Magpies page, which is proving quite popular so hopefully that'll take some of the traffic away."
He added the striker had taken the interest in good humour.