David Mackie: How did stranded student survive?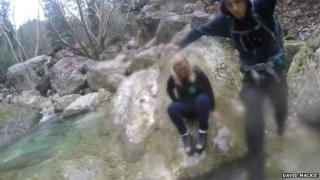 A student who survived in the Turkish wilderness by sheltering in a cave and eating insects appears to have been resourceful, but what does a survival expert think of the measures he took?
David Mackie, 21, from Nottinghamshire, was hiking the Lycian Way, with Dutch friends Friso de Vries and Marije de Groot, when they veered away from a mountain trail and then got trapped by rising river water.
They endured eight cold nights before being rescued but it could have easily ended in tragedy. What did they do to survive?
---
Finding shelter
Mr Mackie admits much of what he knew about surviving in the wilderness was gleaned from watching television.
He said some of what he did was "common sense" and part of that was knowing they needed to find shelter from the cold winds and heavy rain, very quickly.
Fortunately, they came across a small cave big enough for them all to get inside.
Conrad Allen, who runs courses for Trueways Survival, in York, said it was "critical" they found shelter fast.
Mr Allen, who spent five years with the RAF Mountain Rescue Service, said their chances of survival would have reduced drastically otherwise.
"Caves are cold but they're a consistent temperature, they wouldn't freeze in there but the deeper you go the better," he said.
---
Water, water, everywhere
The three students had access to an abundance of fresh, flowing water and - in a sense - that was part of the problem.
The river bed, which was dry when they started to climb, suddenly swelled with water, cutting them off from the path they had been taking.
However, Mr Mackie said he knew he should only drink running water.
Mr Allen said finding a suitable water source was a "major factor" in their survival. However, that also posed a danger.
"Drinking straight from a cold river can drop your core temperature even further," he said.
The survival expert said it would have been better to collect the water and then try to warm it up by methods including holding it close to their bodies.
Mr Allen added they would have survived for only three days without a water source.
---
Urine-filled hot water bottles
The trio were desperate to warm up and Mr Mackie tried to start a fire with tree bark, but it was too damp to ignite.
However Mr Allen said smashing through a tree's wet bark would have revealed "a good dry source of wood".
"That's only if they had the tools to get at it, but they could have used rocks to smash it open," he added.
Without fire, Mr Mackie came up with the novel idea of urinating into a spare container to use as a hot water bottle.
"I love that idea," said Mr Allen. "I'm always telling people how we've got the ability to create hot water, so that's really good."
---
Bug life
Despite their hunger and exhaustion, having fresh water could have kept the three students alive for about three weeks, Mr Allen said.
"With water not being a problem, food was a low priority and you can live off your body fat," he said.
However, after a few days the students decided to take advantage of the local insect life.
"Ants were the best in my opinion, they were sweet," said Mr Mackie.
"We also left the light on at night so small flies would go fly round it for us to eat."
Mr Allen approved of the choice of food.
"All bug life is packed with protein so that was a really good move," he said.
---
Being positive
The three students did their best to motivate each other and stay positive. At night they huddled together to keep warm.
"I got down when scary things started to happen like getting woken up by screams from my friends," Mr Mackie said.
"I always tried to [keep] positive and for most of it I was thinking about my parents and being at home."
For Mr Allen, being mentally strong is the "real key" to survival.
"Doubts are going to enter your mind but having something to live for [like mum and dad] helps a lot."
---
Luck and judgement
On the sixth day, Mr Mackie took the dead battery out of his phone and warmed it up in his hands.
The phone suddenly had 3% charge and he was able to make an emergency call.
He said it was an "absolute miracle" but Mr Allen said what he did was sensible as batteries fail when they are cold.
The three students were found three days later after eight nights in the wilderness.
Mr Allen said, despite some of the resourceful steps they took, it was a "failure in preparation" that got them into trouble.
"They should have packed for a week, despite it being a day's hike, as you never know if you'll get stranded," he said.
Mr Mackie said his experience has not put him off going on adventures but has vowed to be more organised in future.