Notts County unblocks Hungary from Facebook page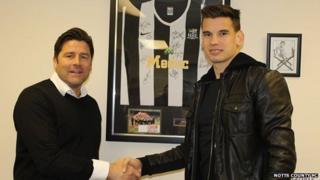 Hungarian football fans have been unblocked on Notts County football club's Facebook page after they were banned from it last week.
The club blocked the entire country after it was swamped with the message: "No Bajner, no party".
Fans' comments came after the Magpies signed Hungarian striker Balint Bajner, 24, from Ipswich Town on Tuesday.
The club said it was forced to take "drastic action" to stop the messages but it was always a temporary measure.
Jamie Dixon, head of media, said they had blocked Hungarian users because of the tone of comments.
He said: "From what we could tell there was a malicious element to the original wave of posts, and there was an attempt at spamming the site with negative connotations.
"We tried to police that the best we could and make it something positive. It was drastic action to be taken, but the plan was always for it to be temporary."
Welcoming Hungary back on Tuesday the club wrote: "Welcome to our several thousand new followers in Hungary, we're delighted to have you on board and thank you for all the supportive messages yesterday, it's great to see so much interest in the club."
In August, Ipswich's Facebook page was swamped by comments saying "No Bajner, no party!" after he was dropped.
Mattyas Szeli, from Nemzeti Sport, a daily sports newspaper in Hungary, said the messages had been sent in response to comments the player had made.
He said: "It was mainly after [Bajner's] unfortunate comments a few months ago that he doesn't really care about the Hungarian League or the national team that were taken slightly out of context.
"And the next one that caused uproar was at Ipswich Town against Fulham. He was subbed at the 44th minute because of fitness issues and he said it was so that fans could applaud him."