T Baden Hardstaff Ltd company sheds 180 jobs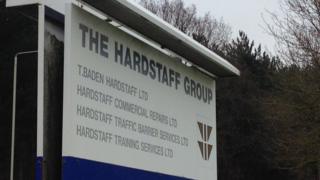 A haulage and engineering company has gone into administration with the loss of 180 jobs in Nottinghamshire.
The 150-year-old firm T Baden Hardstaff Ltd specialises in road haulage as well as maintenance of commercial fleets under the names Hardstaff Haulage and Charnwood Truck Services.
KPMG was appointed administrators and made 180 of the 232 employees redundant, blaming a difficult climate.
It is now seeking buyers of parts of the business.
The company, based in Gotham, near Nottingham and founded in 1861, has four separate businesses; Hardstaff Haulage; lorry repair firm Charnwood Truck Services; safety barrier manufacturer Hardstaff Traffic Barrier Services; and natural gas supplier Portal Gas Services.
Traffic Barrier Services is still trading and a buyer is being sought.