Kirkby teen Corah-Beth Slaney faces two-year wait for house revamp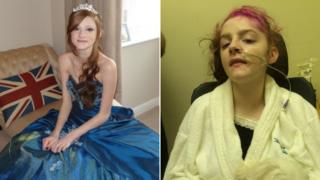 A terminally-ill teenager has been told she will have to wait two years before her home can be adapted for her needs.
Corah-Beth Slaney, 16, of Kirkby in Ashfield, Nottinghamshire has mitochondrial disease which means she cannot care for herself.
Mum Lisa Slaney says they have to take her to hospital for a shower and do not know if they have two years left.
Ashfield District Council said she was eligible for the adaptations but cutbacks mean there is a waiting list.
Until June last year, Corah-Beth was a happy, healthy girl but has since declined dramatically and has been diagnosed with mitochondrial disease.
Mitochondrial disease
Mitochondria are present in almost all cells in the body and provide the energy needed for the cell to operate
When these fail - mitochondrial disease - it can cause a range of problems including poor growth, heart disease, diabetes, dementia and more
It is actually a group of diseases with a huge variety of symptoms
MPs recently voted to allow babies with the DNA of three people to be born - helping reduce the possibility of mitochondrial disease
Her father Carl said: "We have no facilities in place to carry her upstairs or downstairs.
"We have to get her into bed and if she can't get comfortable we have to reposition her in bed."
Mrs Slaney said they have to take her to hospital to shower and have asked the council for help in building facilities on the ground floor.
"She needs the ground-floor facilities but we have been told it will be at least two years. We don't know if we have that length of time left with her," she said.
In a statement, Ashfield council said: "The estimated cost of all outstanding adaptation cases known to the council at this time is £1m and, despite lobbying to government to recognise this demand, the level of funding falls significantly short."
Housing minister Brandon Lewis said local authorities had "no excuse" not to fund adaptations of houses, adding: "Ashfield District Council received £358,717 in 2014-15 and will receive £374,000 in 2015-16, which is a 4% increase."
The family has now started a website in the hope they can raise the £40,000 needed to pay for the equipment and received £1,000 in the first 24 hours.