'Sexually abused' Susan Edwards loses murder sentence appeal bid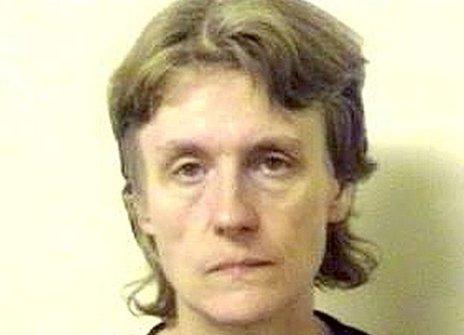 A woman who killed her parents and buried them in a garden has lost a bid to appeal against her sentence.
Susan Edwards, 56, claims to have been sexually abused by her father as a child, and her barrister said the length of sentence did not take into account this "provocation".
She and husband Christopher were given life sentences with minimum terms of 25 years after being convicted of murder.
Three Court of Appeal judges dismissed her application for leave to appeal.
It was a renewed application, as leave had previously been refused by a single judge.
Lady Justice Rafferty said the crown court judge was entitled to reach the conclusions she did when setting the minimum term.
"She did so having reminded herself that 15 years had elapsed since this young woman had left home, before she returned and murdered the people she said she hated," said the appeal judge.
The couple shot William and Patricia Wycherley, aged 86 and 63, at their home in Mansfield, Nottinghamshire, in 1998.
Remains of their bodies were only discovered 15 years later.
In that time they stole £245,000 from the dead couple by siphoning off their pensions and benefits and selling their home.
The pair gave themselves up in France in October 2013, and they were jailed in June 2014.
The trial judge, Mrs Justice Thirlwall, accepted "on reflection and balance" that Mrs Edwards had been sexually abused by her father as a child and that had formed the basis of her hatred for him.
"That background may well explain why you hated him, which you did, and why you have no remorse about killing him," said the judge in her sentencing remarks.
But she added: "Given that you left home in the early 1980s, some 15 years before the murders, I cannot accept that his conduct, wholly wrong as it was, explains your decision to kill him in 1998."
Mrs Edwards' barrister, David Howker QC, argued at the Court of Appeal: "We submit that it does have the potential to have been a slow-burning provocation over the years, and that the judge, if she did reject it, was wrong to do so.
"The imposition of this minimum term will probably result in her dying in prison."
Related Internet Links
The BBC is not responsible for the content of external sites.