Medical staff failed to spot Nottinghamshire boy's sepsis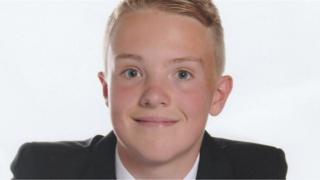 Medical staff "missed opportunities" to save a teenage boy who died a few weeks after his appendix burst.
Lewis Close, 14, of Edwinstowe, Nottinghamshire suffered multiple organ failure caused by sepsis after falling ill on holiday.
Coroner Mairin Casey said failure to treat him promptly contributed to his death in Nottingham in September 2013.
NHS England said training has taken place at GP practices to raise awareness of sepsis.
'Silent killer'
Lewis' parents Fiona Simpson and Rene Close sought help from doctors for a week before he was admitted to hospital.
Mrs Simpson said: "I asked for a scan, I asked for a blood test, I asked for everything… so it [his death] wasn't necessary."
Lewis had the appendix removed in Turkey while on a family holiday.
His father said: "If he had been diagnosed with sepsis on the day he got back, if that was possible, then Lewis would be sat with me today.
"What is hard to deal with is that we could have done something about."
Mrs Casey said the first GP to treat Lewis failed to "seek advice and guidance from one of his experienced colleagues within the practice" despite the patient's high temperature.
She said there were also "multiple missed opportunities to take and record vital observations" and "had Lewis received appropriate care and treatment, he might well have survived".
NHS England said a review "found that the care delivered to Lewis did not meet the standards the NHS sets itself, and this had tragic consequences.
"There were a number of failings in the clinical care Lewis received from the agencies which treated him prior to his death, and missed opportunities to get him the specialist help he so urgently required," NHS England medical director Doug Black said.
He added sepsis, which results from infection and can cause swelling and fever, is known as "the silent killer" and can be difficult to recognise.