Zoe Black inquest: Care visit 'refused' before baby death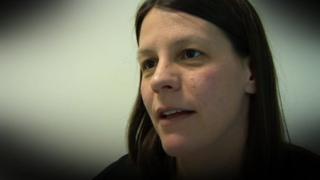 An inquest into the death of a baby was told a police officer's request for an urgent visit to the family from social services was turned down.
Seven-month-old Zoe Black was killed by her mother Amy Black in Nottingham in September 2013.
Sgt Ruby Burrow said she was told by social worker Rohan Griffiths the night before that no visit could be made as there was no-one on duty.
However, Mr Griffiths denied the request was ever made.
'Irritated'
Sgt Burrow told the inquest how she tried to revive Zoe with mouth-to-mouth resuscitation after she was found in undergrowth in Bestwood on Sunday 1 September 2013.
She said she spoke on the telephone to Mr Griffiths from the city council's social services emergency duty team the day before, asking for an urgent visit to the family home.
She said: "I was told by Rohan a visit could not be conducted that night as there was no social worker on duty and there was no facility to do that.
"It was likely the visit would be done on the Monday."
Sgt Burrow said she was "irritated" by the response.
She said she agreed with Mr Griffiths that the police would do a "safe and well check" on Sunday morning.
Mr Griffiths told the inquest there was no request from Sgt Burrow for social services to carry out an urgent visit.
He said: "There was no direct question 'can you do a visit?' That was not in the conversation at all."
'Lost for words'
The assistant coroner Dr Elizabeth Didcott said to Mr Griffiths: "She [Sgt Burrow] said she asked on two occasions for you to go out to the family.
"Are you saying here today that is not your recollection?"
Mr Griffiths replied: "No."
Dr Didcott said: "How can there be such a difference?"
Mr Griffiths said: "I'm just lost for words as far as I'm concerned there was not a request to do a visit on the day in question, August 31st.
"If she had made a request, we would have done so, there would have been no argument."
Amy Black is in a secure hospital after admitting infanticide while her mind was unbalanced.
The inquest continues.