'Robin Hood' Major Oak fails to win in Euro tree competition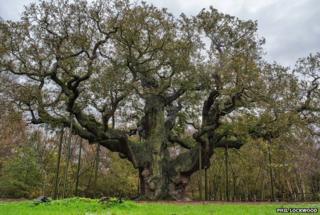 An oak tree associated with the Robin Hood legend has lost its bid to be named the best in Europe.
The Major Oak in Sherwood Forest, Nottinghamshire, which is thought to be up to 1,000 years old, came up against 13 other trees in a public vote.
It had won England's first Tree of the Year competition in November, but lost out on Euro glory to a tree in Estonia.
Nottinghamshire County Council said it was pleased the competition gave the Major Oak such a high profile.
---
From 'The Major's Oak' to Major Oak
Because of its national importance, conservation measures to the tree have been carried out continually since 1908
Steel poles prop up the sprawling limbs and tree surgeons check the oak periodically, carrying out remedial work as needed
The earliest recorded name, from the mid 18th Century, was the Cockpen Tree - the hollow interior was used to pen cockerels ready for fighting
In 1790, the tree was included in a book by Major Hayman Rooke and became known as The Major's Oak, later simply The Major Oak
Source: Nottinghamshire County Council
---
The winning specimen, "Oak tree on a football field" in Estonia, landed 32% of the 185,000 votes cast across Europe.
The Major Oak came sixth with 9,941 votes, making it the highest placed British tree. Scotland's Lady's Tree and the Lonely Tree of Llanfyllin in Wales came ninth and tenth.
Councillor John Knight, chairman of the culture committee at Nottinghamshire County Council, said: "We are very pleased the Major Oak has enjoyed a high profile throughout the competition and we hope it will encourage our European neighbours to want to visit the iconic tree in Robin Hood's county."
Jill Butler, the Woodland Trust's ancient tree expert, said: "It is clear some of our European cousins place huge cultural importance on their special trees and it's something we need to adopt in the UK too."
---
The triumphant tree
The winner is a 150-year-old oak that found itself in the middle of a football pitch in 1951, when a small sports field was enlarged
Students who play football there know how to use the tree to complete passes
Legend says two of Stalin's tractors tried to pull it out of the ground, but the cables kept breaking
Source: Tree of the Year
---