Rufford Abbey 'photo tripod stone' is Roman artefact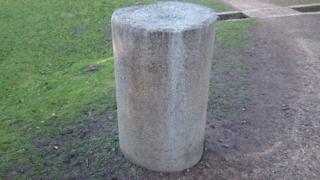 A stone stump used as a photo tripod by country park visitors is an ancient Roman artefact, it has been revealed.
Archaeologists said the 4ft (1.2m) granite stone at Rufford Abbey, near Ollerton, Nottinghamshire, dates back to about 150AD.
It formed part of a column at Roman emperor Antoninus Pius' villa, excavated and brought back by 19th Century archaeologist Lord John Savile.
Visitors to the park had also used the column as a bird feeder.
Nottinghamshire County Council archaeologist Emily Gillot - who has worked at the 210-acre (85-hectare) country park for 11 years - said it was an exciting discovery.
'Hidden in plain sight'
She said: "You certainly wouldn't think of Imperial Rome when you think of Rufford Abbey - but we are starting to realise there is a stronger connection than we thought.
"For 130 years it has been hidden in plain sight - and although people must have known what it was originally - after the house changed hands several times the knowledge was lost."
She said before the discovery she thought it was just a piece of "not very good art", used as a tripod for family photos.
"I don't know what the Romans would have made of that," she added.
The find came after experts started looking at the work of Lord Savile, who practised archaeology during his time in the diplomatic service.
They found the stone, on which Savile put a large brass head depicting the Roman goddess Juno - was shipped to England after being excavated at the villa belonging to Pius, who succeeded Hadrian.
The brass head was auctioned in the 1930s, it has been discovered.
Archaeologists think Lord Savile also brought back a number of other artefacts from Rome.