Nottingham trams could start hour earlier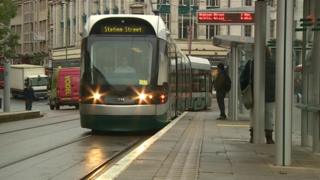 Tram services in Nottinghamshire could be extended so they start running from 05:00 in the morning - an hour earlier than they currently do.
Some residents are worried about the noise and have described the idea as "appalling".
Others say the earlier times will be good for people who need to get to work early by public transport.
Nottingham Express Transit (NET) said the final running timings were yet to be agreed.
The extended operating hours would be introduced once new lines to Chilwell and Clifton open later this year.
A statement from NET said: "This will provide real benefits for shift workers at key employment sites across the city, including Boots and the QMC.
"The timetables under discussion are provisional at this stage, and final running timings are yet to be agreed."
Lloyd Wildish, who lives on Lower Road in Beeston, near one of the new tram lines, is worried about the noise.
"I think it's going to change my life forever," said Mr Wildish, who has lived on Lower Road for 39 years.
"I think it's unnecessary to come at that time because there won't be enough people using the tram.
"If they started an hour later that would be a little bit more reasonable."
But posting on BBC Radio Nottingham's Facebook page, listener Diane Seward-tye commented: "We live next to the tram track at Basford. We don't really hear them, they are quiet.
"The only time we notice them is on a frosty morning when the sparks light the room up."
Listener Sharon Tidmuss commented: "Not great for residents but more and more people have to get to work earlier now as many companies impose earlier starts and need good public transport to get them there."