'Heartbreak' after rubble dumped on Nottingham grave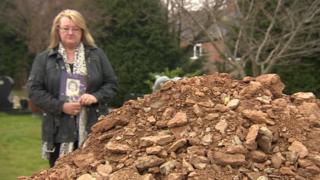 A woman has complained to her council after a pile of rubble was dumped on her mother's grave.
Loretta Perminas, from Carlton, in Nottingham, told the Nottingham Evening Post she was heartbroken when she visited the grave on Mother's Day.
Gedling Borough Council apologised to the family but said earth was often deposited on a grave when another one was dug nearby.
Items including ornaments and flowers, had been moved to one side.
Ms Perminas's mother, Jadvyga, died in January 2014, aged 89.
The family had placed a memorial plaque, vases and flowers on the grave.
Ms Perminas said: "We actually thought we were imagining things because it was like her plot had vanished.
"We eventually realised that she was buried under this rubble and we saw all her ornaments and figures chucked at the bottom of this rubbish.
"I was really devastated - I began to shake and felt really ill."
She said there was no need to put the rubble on the grave as there was an empty area with grass nearby.
Gedling Borough councillor, Peter Barnes, said: "We are very sorry this has happened.
"Carlton Cemetery is a working cemetery but that material will be moved by the end of the day when the burial adjacent is finished.
"It will be put right and it will look fine the next day."
He said it was not practical to put the rubble on the grassy area as the space was needed for "a large funeral" the next day.
"But we are prepared to look at it and if changes are needed then we will do that," he added.