Nottingham Player Street fire continues at student flats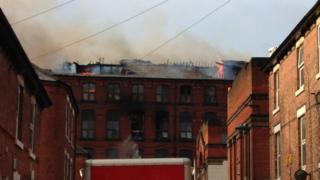 High winds have been hampering attempts to tackle a blaze at a student accommodation block in Nottingham's former Player's cigarette factory.
The fire broke out at the Student Lodge on Player Street on Monday afternoon.
About 60 firefighters are still at the scene of the fire but incident commander Chris Clarke said he hoped it would be contained soon.
Students were evacuated on Monday and residents of nearby terraced housing have been moved as a precaution.
The university is caring for students from the Player Street site but displaced families are having to stay at the John Carrol Leisure Centre.
Mr Clarke said: "Hopefully we will be able to get to the root of this and soon be able to say the fire is contained in all the voids and roof spaces."
The fire investigation team said it was too early to establish the cause of the fire.
A statement said: "Our focus right now is stopping the fire from spreading, keeping people safe while it is alight, and putting the fire out.
"Once this is done, a full investigation will take place to determine the cause."
Flames could be seen coming from the roof of the building in Radford earlier.
A cordon around the scene had had to be widened because high winds were blowing around debris.
The fire is thought to have started between the third and fourth floors.
Part of the building is occupied, but about three quarters is still under construction. Builders who were working on the site were evacuated on Monday.
Crews from Leicestershire and Derbyshire are also still at the scene.
The accommodation block is owned by a private landlord.