Nottingham factory blaze: Fire still burning after seven days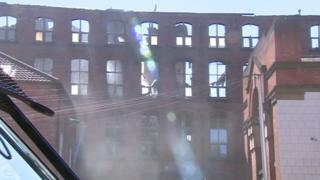 A fire at a former cigarette factory is still burning more than a week after it started.
About a third of the building in Nottingham has now been pulled down in controlled demolitions.
The blaze broke out at the Student Lodge on Player Street, most of which is being renovated, on 30 March.
Senior firefighters have described the blaze as the most complex they had ever dealt with. About 30 firefighters remained at the scene on Monday.
'Seats of fire'
Station manager Andy Turner said there were still pockets of fire in the 19th Century building.
"Most of the pockets are in voids of the building construction," he said.
"There's a large amount of timber and insulation from the modernisation that was taking place and that's where most of the seats of fire are."
He said teams of construction workers were working to remove scaffolding from the building to allow further demolitions to be carried out.
The cause of the fire is still unknown.
Investigations will not begin until the blaze is completely out, which is not expected to be for several more days.