Light aircraft 'stalled' before Hucknall M1 fatal crash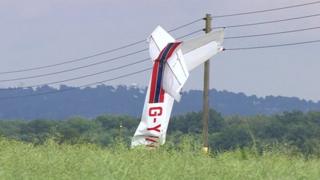 A light aircraft stalled before crashing near the M1 killing the pilot and a passenger, a report has found.
Pilot John Gill, 70, and Alan Eaves, 76, died when the Cessna F1501 plunged into a field near Junction 26 at Hucknall, Nottinghamshire, last June.
The Air Accident Investigation Branch said the aircraft stalled and spun, most likely due to an engine problem which "could not be determined" .
The probable cause was "a partial loss of engine power", the report found.
Mr Gill, from Belper, Derbyshire, and Mr Eaves, from Selston, Nottinghamshire, both held pilot licences.
They were members of the Merlin Flying Club at Hucknall from where they had taken off on the day of the crash on 14 June.
Several drivers on the M1, including one with a dashboard camera, provided eyewitness evidence of the aircraft's last moments to the investigators.
These showed the aircraft flew straight for about eight seconds before starting a left turn and then rolling sharply to the left and entering a "vertical rotating descent".