Nottingham vicar Andrew Waude guilty over child porn images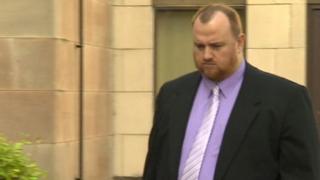 A vicar has been given a three-year community order after he admitted possessing indecent images of children.
Nottingham Crown Court was told Andrew Waude, 40, had 476 indecent images of children in his possession.
Waude was suspended by his diocese while working at St Cyprian's Church, in Sneinton, Nottingham, in September.
The court heard Waude, of Marston Road, Nottingham, bought a DVD of the pictures from a Canadian website.
'Horrific offences'
Waude was also ordered to carry out 250 hours of unpaid work and will have to attend a sex offenders programme.
Detectives said they visited Waude's home after a tip-off from Canadian police in 2013.
He produced a briefcase containing 27 discs with images of children, one as young as two years old.
More pictures were found on two laptops, two hard drives and a desktop computer.
Det Con Steve Cotter said: "Tragically, behind each of these images is a victim and we owe it to each and every one of them to ensure that we properly investigate these horrific offences."
'Lost his vocation'
The Diocese of Southwell and Nottingham said in a statement it would continue to help police and was committed to helping every parish church to be a safe place for everyone.
The court heard Waude had resigned from his post and the Church of England was expected to sack him.
Patrick Maggs, who defended Waude, said there was "genuine remorse" for what he had done.
He said: "He has not only lost his good character, he has not only lost his post and not only lost his home, but he has lost his vocation."