Nottingham parking levy rise not ruled out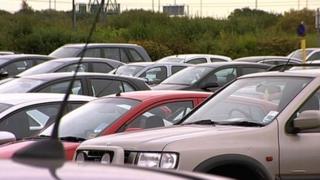 An above inflation rise in Nottingham's Workplace Parking Levy has not been ruled out after the latest results were released.
In the last financial year, the £375-per-car charge on firms with 11 spaces or more raised slightly more than £9m.
The city council said this was in line with expectations but officials have set a target of an average of £12m a year in the long term.
The authority said it could not make promises during a time of grant cuts.
The levy, introduced in 2012, has raised a total of £25m.
This was invested in major transport projects including the tram and railway station.
Officials have said the levy is "here to stay" because the loans will take many years to pay off.
But after the figures were released in 2013 Jane Urquhart, portfolio member for planning and transportation, said she was "confident" that the charge would eventually raise an average of £12m a year.
Now Nick McDonald, portfolio holder for jobs, growth and transport, said that while they had no desire to make an above-inflation rise, it could not be ruled out.
He said: "The reality is that local government has enormous cuts to its budget ahead of it.
"We don't know what is coming from government and I think it would be silly to make any sort of commitments about what we will and won't so until we know what government is going to do to us."