Bitterns breed for first time at Attenborough Nature Reserve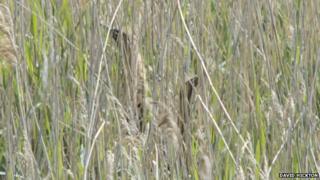 One of the rarest bird species in the UK has bred for the first time at a wildlife park in Nottinghamshire.
Nottinghamshire Wildlife Trust said two bittern chicks had been spotted in the reedbeds at Attenborough Nature Reserve.
The trust said the "fantastic" breeding success was the culmination of 15 years of conservation work at the site.
The heron-like birds are an RSPB red list species with only 80 breeding males recorded in the UK.
Wardens and volunteers at the reserve, which was recently named as one of the best by Countryfile Magazine, had long hoped to attract the globally threatened species.
In 2000, the wildlife trust designed and planted the reedbed where the birds have since nested.
It involved bulldozing tons of material into a deep lake to create areas where young reed seedlings could grow.
Sandy Aitken, a volunteer at the reserve for about 30 years, said: "The news that bitterns have bred at Attenborough is fantastic.
"It has been especially gratifying for the many local people who have volunteered here, especially those involved in efforts to maintain the reedbeds."
A number of bitterns had been spotted wintering in the reeds but none had gone on to mate.
However, earlier in the year when a male was heard making its famous booming mating call efforts were made to give the birds every chance of breeding success.
The water levels were raised to ensure supplies of fish and to provide additional protection from predators such as foxes.
Nottinghamshire Wildlife Trust said it hoped the Trent Valley become a stronghold for the species in the future.
Bitterns have been successfully breeding in wetlands with large reedbeds, at RSPB reserves in Minsmere, Suffolk, and Leighton Moss, in Lancashire.