Southwell Burgage Manor remembers WWI hospital role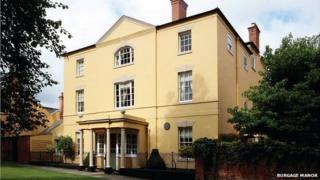 A Nottinghamshire house is recreating its time as a hospital for soldiers from World War One.
About 70 men at a time were treated at Burgage Manor in Southwell, sent from acute hospitals in Leicester and Lincoln.
The weekend will see volunteers in period clothing along with contemporary music and displays of memorabilia.
Organisers said they wanted to commemorate not just the solders but also the work of nurses and doctors.
A former home of Lord Byron, Burgage Manor was offered to the British Red Cross by a local banking family and took its first patients in April 1915.
Working mainly as a convalescent home, the manor had up to 800 soldiers pass through its doors.
Owner Geoffrey Bond said: "Few of the records have survived but we have managed to find out a huge amount through reports in the paper and personal letters.
"It really struck me just how much a community effort the hospital was, with many people working there for the entire war."
The exhibition will show the efforts of Southwell to help the soldiers went beyond nursing, with entertainments and even egg collections.
A number of period vehicles will help give a flavour of the era and a service will be held to remember the dead and injured.
Separately, a collection of letters written by soldiers at Burgage to a volunteer nurse, "Miss G M Gibbs", is to be sold by auctioneers Mellors & Kirk later this month.