RSPB chosen to build Nottinghamshire's Sherwood Forest visitor centre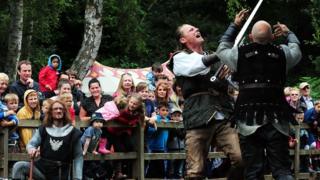 A consortium led by the Royal Society for the Protection of Birds (RSPB) will run a revamped visitor centre at Sherwood Forest in Nottinghamshire.
The RSPB has been chosen as the preferred bidder to build the £5.3m centre - which has been plagued by false starts in the past.
The last proposed project - a £13m theme park - was abandoned when investment fell through.
The county council said the project could open by the end of 2017.
'Iconic' heritage
More details about what the new centre will include will be revealed once final contracts have been signed in September, council leader Alan Rhodes said.
"A bright new chapter for Sherwood Forest Country Park and the legend of Robin Hood is a step closer with this announcement as we move to final contract talks with the preferred bidder.
He said the RSPB, which already runs more than 200 nature reserves across the UK, will focus on "conservation management" and the "iconic heritage" of the site.
The current visitor centre was built in 1977 and is regarded as outdated.
The previous bid for a theme park, backed by Discovery Attractions, included a medieval-style village fair, a wildlife dome, an open-air theatre, a torture chamber-themed attraction, a 4D show and an adventure play area.
An attempt by Nottinghamshire County Council to win £50m of funding to develop the Sherwood Forest visitor centre failed in 2007.
The RSPB-led consortium also includes Sherwood Forest Trust, Continuum Attractions and Thoresby Estate, which owns the land where the centre is located.
Robin Hood's neighbourhood
The forest is famous for its role in the Robin Hood legend
Around 350,000 visitors visit the Sherwood Forest Country Park each year
The Robin Hood Festival takes place in the country park every year