Nottingham group opens lid on Windrush generation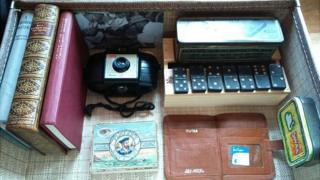 A unique perspective on a landmark social event is to be unveiled as part of Nottingham's Caribbean Carnival.
SKN Heritage Museum is showing the type of belongings brought by African-Caribbean immigrants in the 1940s and 50s.
The Windrush generation responded to adverts to work in Britain but were only allowed to bring one suitcase.
Organisers said the display gives a unique insight into important part of Nottingham's history.
The Windrush was named after the first boat which brought people from the Caribbean to Britain in 1948.
The exhibition, called 'From Caribbean Isles to the British Isles -Home to Home', aims to give an insight into people who travelled across the Atlantic to seek a better life in what was still the Empire's "mother country".
Item include photographs, clothes, records and games - as well as beauty products designed for black skin and hair when none were commercially available.
Catherine Ross, the museum's founder, cameto Nottingham from St Kitts when she was just seven years old.
She said: "Our aim is to let everyone know about the contributions that Caribbeans have made to British society and Nottingham and commemorate these achievements.
"There'sno better place tostart than Nottingham Carnival, as it's such awell known and celebratory event in Nottingham's calendar."
The carnival is taking place for the first time take in two sites - the Forest Recreation Ground on Saturday and the Victoria Embankment on Sunday.