DH Lawrence Pansies poem collection shows censor battle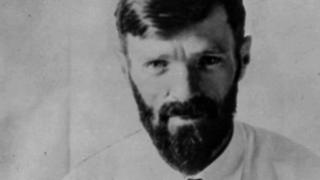 A newly-discovered typescript of a collection of DH Lawrence poems has revealed further proof of the writer's determination to fight censorship.
After Pansies was intercepted and confiscated by government officials in 1929 on the grounds it was "obscene", Lawrence produced another copy.
It was smuggled in to the country and published for a select audience.
The University of Nottingham has acquired one of the typescripts, annotated by DH Lawrence himself.
Following the controversy surrounding Lady Chatterley's Lover in 1928, postal workers acting under instruction from Scotland Yard and the Home Office opened a parcel from Lawrence to his London literary agent Curtis Brown.
The package contained two typescripts of Pansies, the last book of poems Lawrence saw published in his lifetime.
Abridged versions of the collection were published but outraged by the seizure of his typescripts, Lawrence set to work to produce a fuller version.
He entrusted one of these to Welsh novelist Rhys Davies who smuggled the typescript through English customs before it was published privately in August 1929.
Lawrence retyped it again over fears it, too, would be seized.
---
Why was Lady Chatterley so controversial?
Bookshops sold out of copies of Lady Chatterley's Lover on the first day the ban was lifted in 1960 - three decades after Lawrence wrote it
It told the story of Lady Chatterley's passionate affair with her husband's gamekeeper and included details of their erotic encounters and four-letter words
It was banned in Britain in 1929 but the Obscene Publications Act of 1959 allowed publishers to escape conviction if they could show a work had literary merit
During a sensational six-day trial at the Old Bailey the prosecution failed to make the case that it was obscene and within a year it had outsold the Bible, shifting two million copies
A handful of screen adaptations of the book have been made, including on BBC TV in 1993 starring Sean Bean and Joely Richardson
---
Mark Dorrington, the University of Nottingham's keeper of manuscripts and special collections, said although a few of the poems contained some "obscene phraseology", the confiscation was more to do with Lawrence's reputation.
Dr Andrew Harrison, director of the university's DH Lawrence research centre, said: "It is astonishing that the consumptive Lawrence, who hated the mechanical business of typing, could summon the energy to retype his longest book of poems so often, barely 12 months before his death.
"But he was wholly committed to striking back at [the British government] and to fighting censorship."
Lawrence died in March 1930 and Lady Chatterley's Lover was not published in the UK until 1960.