Mother 'livid' over Britain First Facebook photo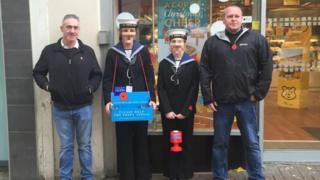 A mother says she is "livid" Facebook will not remove a photo of her daughter that is being used by the political group Britain First as propaganda.
The photo purports to show two men "guarding" poppy-selling sea cadets against "Islamic extremists".
The girls, aged 12 and 13, did not know who the men were and Nottingham Sea Cadets has tried for almost a week to have all of the photos removed.
Facebook told the BBC it does not comment on individual cases.
The mother of the 13-year-old girl repeatedly asked Facebook to remove the photos, but was told they could do nothing as her child was between 13 and 17.
"As a parent, knowing an image of your child is being seen and shared around the country without your consent is frightening especially when it's linked to a controversial group whose views you do not agree with," said the mother.
"Potentially they could make your child a target to the fools out there that exist."
Updates on this story and more from Nottinghamshire
She has not received any response from Britain First, who she described as "cowards" and "racist bullies".
The BBC has asked Britain First to comment but it has not responded.
Nottingham Sea Cadets said the parents of the 12-year-old girl have not reported the photo themselves as they do not use Facebook.
Who are Britain First?
Britain First is a far-right political party set up in 2011 by former members of the British National Party
The group is notable for using Facebook to spread its message and has more than a million followers on the social networking site - more than any other political party in the UK
It is led by former BNP member Paul Golding, who is running for Mayor of London
The anti-racism group, Hope Not Hate, says Britain First is "the most dangerous group to have emerged on the British far-right scene for several years"
Watch the Victoria Derbyshire programme's Benjamin Zand meeting Britain First in Rotherham.
The photo was posted on Facebook and Britain First's own website on 7 November.
Britain First was inundated with complaints from members of the public and eventually removed the photo from its website.
The group also removed a large version of the photo from Facebook - but a smaller version is still on the group's page.
"I'm livid with Facebook as they did not help or support at all," said the mother of the 13-year-old.
"Their reporting system was a joke as none of their categories fitted my complaint so they kept disregarding them.
"I eventually discovered they would do nothing if the child was between 13 and 17, which I was astounded by."
'Rights of children hijacked'
Sea Cadets UK has asked both Britain First and Facebook for the photos to be removed.
Sue Dewey, chairwoman of Nottingham Sea Cadets, said she was angry about what happened.
"I was horrified, naturally, and very upset for the cadets because the exploitation of young people is something that we strive to avoid at all costs," she said.
"My concern was that the rights of these children had been hijacked by individuals and they were trying to exploit the cadets and their uniform and attach that pride and the poppy-selling to help their own aims."
Photographing children
It is legal in the UK for children to be photographed in public places, even without asking their consent
However, many media organisations including the BBC have their own policies in place to protect children, and would not normally publish a photo or video of a child without obtaining informed consent, unless there was editorial justification
Parents of children aged under 13 can ask Facebook to remove a photo of their child if they believe their privacy rights have been violated