Historical child abuse: Council to apologise if failed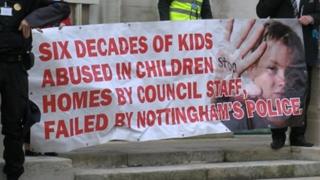 An "unreserved apology" has been promised if a local authority's care system is found to have failed alleged victims of historical child abuse.
Police are investigating allegations of abuse at children's homes and secure units in Nottinghamshire committed over a number of years.
Alan Rhodes, the county council leader, pledged to expose any wrongdoing and help bring perpetrators to justice.
Campaigners lobbied the authority to demand more support for those affected.
Mr Rhodes said in a statement: "I am prepared to make an unreserved apology to survivors if our council is found to have failed in our duty of care to children.
"My pledge to all survivors is that we will continue to do everything we can to support them and expose any wrongdoing in the past.
"We will not shy away from these allegations of historical abuse."
David Hollas, from the Nottinghamshire Child Sexual Abuse Inquiry Action Group, welcomed the announcement.
He said it was a "powerful statement" ahead of the Independent Inquiry into Child Sexual Abuse led by Justice Lowell Goddard.
Nottinghamshire County Council is due to find out whether it will be investigated during the inquiry, on Friday.
Nottinghamshire Police has two investigations into allegations of historic child abuse at care homes across the county.
Operation Daybreak is a historical child abuse investigation into allegations regarding the former Beechwood Community House children's home in Nottingham.
The abuse is alleged to have been committed by individuals who had worked at the home and by others.
There are currently several criminal and civil cases going through the courts.
Operation Xeres is investigating allegations of historical child abuse at a number of different care facilities dating from the 1940s to the 1990s.