Giant 'bird-like dinosaur' remains to go on show in Nottingham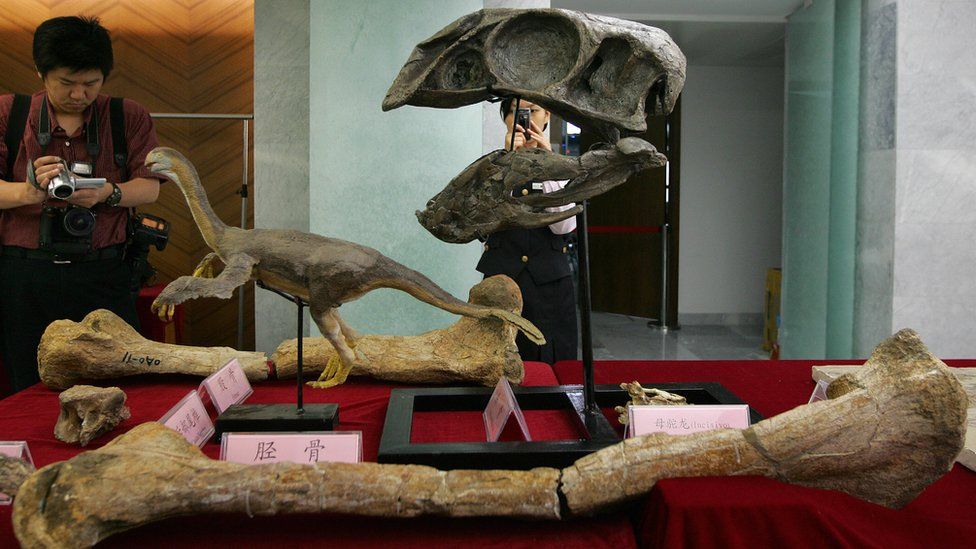 The remains the largest feathered creature ever discovered are to go on display in Nottingham after leaving China for the first time.
Gigantoraptor, which was four metres tall and eight metres long, will be one of several dinosaur specimens to feature at Wollaton Hall next summer.
Dr George Baxter, of The University of Nottingham, said the exhibition was "an enormous coup for the city".
The creature may have been more than two tons in weight, yet was only a young adult when it died
The toothless skull was more than half a metre long with a horny beak
It had long hind legs and large claws and would have been fast enough to outrun most predators around 70 million years ago
It seems certain that Gigantoraptor's feathers were for display rather than for flight or insulation
It laid the largest dinosaur eggs ever found
The exhibition, which is on loan from museums in China, also includes the best preserved dinosaur fossils from around the world - including skin and feathers.
The flying Microraptor and specimens of some the largest prehistoric creatures ever found in China, will also be part of the collection.
Dr Adam Smith, of curator and palaeontologist at Wollaton Hall, said: "This is the first time some of these incredibly important and rare fossils have ever been displayed outside of China.
"Some of the most important fossils in the world... have revolutionised our understanding of dinosaurs and the origin of birds and feathers - birds are literally dinosaurs. Dinosaurs that learned how to fly."
Many of the species are relatively new to science, having only been discovered and named in the last 20 years - some as recently as 2015.
Councillor Dave Trimble, of Nottingham City Council, said he believes the "prestigious Chinese exhibition" will attract people from across the world.
The exhibition aims to bring to life the story of how dinosaurs evolved into the birds that live alongside us today.
Related Internet Links
The BBC is not responsible for the content of external sites.