Nottingham Trent art student casts head in chocolate for parody project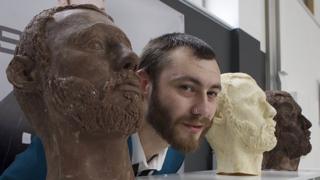 An art student has used chocolate to make edible life-sized casts of his head in a parody of celebrities and their branded merchandise.
Dean Morris also made prints and mugs featuring his face, and set up an Instagram account after being "amazed" by the obsession with celebrities.
He considered bottling his own sweat - inspired by celebrities like David Beckham who have perfume ranges.
The Nottingham Trent University student produced the works for a degree show.
He is selling the merchandise and the money raised will cover his own costs - but he is pedalling on an exercise bike installed in his degree show pop-up shop to raise money for homelessness charity Emmanuel House.
"My project started a year ago; I was just amazed at the obsession the general public has with celebrities," said Mr Morris, from Stone in Staffordshire.
He cited Kanye West - who has his own clothing and footwear ranges - as "one of the biggest examples of a celebrity who just loves himself".
He described making his own head out of chocolate as "self idolisation", and "very egotistical".
He said: "I started trying to turn myself into a brand, a celebrity sort of thing, but with no substance behind it apart from the project."
"Everyone loves chocolate so I suppose it says that everyone loves me," he claimed.
The chocolate heads are hollow, and are meant to be like Easter eggs.
"Easter eggs don't really represent Easter at all, they are just a branded product that people buy and it's supposed to somehow represent Easter," he said.
To make them, he made a cast of his head and used this to make a silicone mould, before then coating it in layers of chocolate.
Each of the three heads created so far use 6.6lb (3kg) of chocolate and cost £30.
He has opened the "Dean Morris Official" pop-up shop as part of Nottingham Trent University's 2016 Art & Design Degree Show, which is open to the public until 11 June.
"I'm maybe a bit more popular but I wouldn't say I'm a celebrity," he said.