Drug driver Christopher Jewkes killed cyclist in Mansfield after taking heroin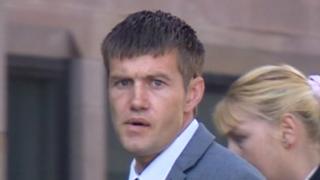 A motorist who took heroin before losing control of his car and killing a cyclist has been jailed.
Christopher Jewkes, 35, mounted a kerb on the A60 Leeming Lane South and drove into Nicholas Highfield, 41, who was cycling the opposite way.
Jewkes, formerly of Selston, took the drug before getting into his 4x4 vehicle on 21 August 2014.
He was jailed for seven years and three months and banned from driving for 10 years.
Updates on this story and more from Nottinghamshire
Jewkes had pleaded guilty to causing death by careless driving while under the influence of drugs at a hearing on 31 May.
Nottinghamshire Police said Jewkes, who was also taking prescription medication, gave a negative breath test for alcohol while at the roadside but failed a preliminary field impairment test (FIT) after an officer suspected he was under the influence of drugs.
He had taken £5 worth of the drug before getting into his car, the force added.
Witnesses described seeing his car skidding and drifting prior to the collision in Mansfield.
In a statement, Mr Highfield's mother Frances, said her youngest son was killed on the day before his 42nd birthday.
"Nick had lunch with us every day and when he left he would always give me a bear hug and say 'I love you mum'," she said.
"He will never say that again, he will never hug me again. The person driving that car took that away from me and I will never forgive that, ever."
Det Sgt James Greely, speaking outside Nottingham Crown Court, said Jewkes "tried to blame Nicholas Highfield for the consequences of what happened that night".
"He [Jewkes] completely denied this offence throughout the course of our investigation, putting the family through further trauma," he said.
"We welcome the sentence...and hope that it can give at least some closure to Nicholas's family."