Sherwood Forest migrant camps are 'fantasy'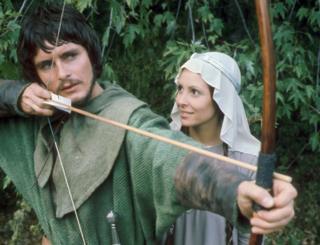 A council has reassured people that reports of migrants living in Sherwood Forest, killing deer and threatening people with knives, are "fantasy".
Nottinghamshire County Council received 700 complaints about the supposed migrant camps after far-right group Britain First mounted a campaign.
The claims were originally reported in the Mansfield Chad, along with a photo of a treehouse.
A group of young people later confirmed they built the treehouse in 2010.
The BBC has contacted Britain First but has yet to receive a response.
Youngster Brad Dury told the Mansfield Chad: "My phone was blowing up with messages saying 'didn't we build that?'
"I thought 'yes we did, we need to say something'."
Britain First leafleted people in Nottinghamshire demanding the "illegal" camps be shut down.
A campaign video has also been viewed more than 348,000 times on Britain First's Facebook page.
County council leader Alan Rhodes said: "The story is fantasy. It's untrue and actually I'm very concerned because Sherwood Forest Country Park is a lovely safe place for families to go and enjoy a day out.
"I would encourage people to do that and to ignore these nonsensical stories of migrant camps."
Nottinghamshire Police and the Forestry Commission also confirmed there had never been any migrant camps in Sherwood Forest.