Water pipe burst blasts hole in road in Plumtree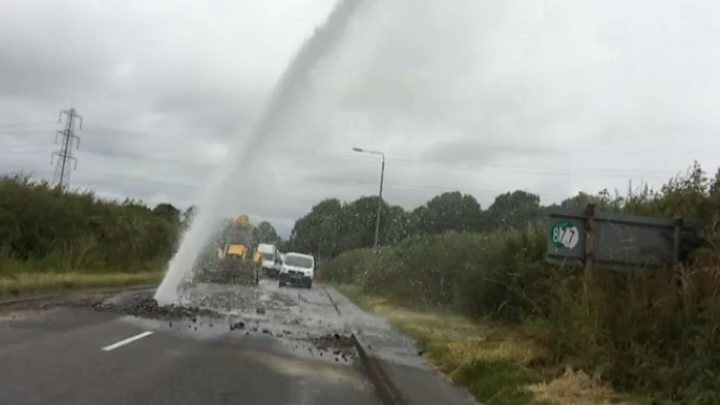 Schools have been closed and thousands of homes have been left with little or no water after a pipe burst.
The burst blasted a hole in the road and sent a huge jet of water gushing into the sky in the Nottinghamshire village of Plumtree.
Homes as far away as Loughborough and Melton Mowbray in Leicestershire have been affected.
Severn Trent has apologised for the inconvenience and hopes to have the supply back on in the next few hours.
Three schools in the nearby village of Keyworth - Keyworth Primary and Nursery School, Crossdale Drive Primary School and Willow Brook Primary School - have been closed.
Severn Trent said water supplies may be off or at low pressure in the following areas:
Keyworth
Bunny
Hickling Pastures
Kinoulton
Cotgrave
Widmerpool
Wysall
Costock
Melton Mowbray
Loughborough
The burst was reported by a member of the public at 02:00 BST.
Lloyd Burnham, who owns a car showroom near the burst pipe, is concerned about how it will affect his business.
"Nobody's going to be able to get to us to look at cars," he said.
However, Abbie Harper at Children First nursery on Station Road, said her water was running fine - which is lucky as she has about 60 children to look after today.
"They love it - they've been looking at it and talking about it," she said.
Severn Trent said in a statement: "The burst itself is in the middle of the road which means Station Road will have to remain closed while we fix the pipe.
"We're sorry for any inconvenience this will cause but we'll be working as quickly as possible to complete the repairs and get everything back to normal."