Michael Bugg search: Body found in River Trent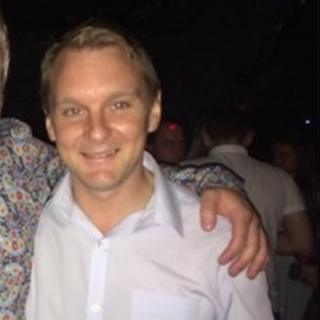 A body has been found in the River Trent during the search for a man who went missing after celebrating his friend's 40th birthday.
Michael Bugg, 39, was last seen leaving the Southbank bar, near the river in Nottingham, early on Sunday morning.
The body has not been identified but Mr Bugg's family have been informed.
On Tuesday, officers had said the father-of-one could have "potentially" fallen in the water.
A statement on a Facebook group set up to find Mr Bugg said: "I have been asked by the family to thank you all from the bottom of their hearts for all your support during the search for Michael.
"The family are surrounded by their loved ones at this time and ask for time to deal with their grief."
Friends had been out searching for the 39-year-old, describing his disappearance as "out of character".
Hayley Mallia told the BBC: "He's got a little girl, Scarlett, who's two-and-a-half, and we know that she keeps asking for her daddy, so we are just trying to do as much as we can."
Nottinghamshire Police have been undergoing extensive searches adjacent to the River Trent and specialist boat teams were deployed to assist with the search.