Nottingham hospitals' 'abysmal' cleaning firm 'should be sacked'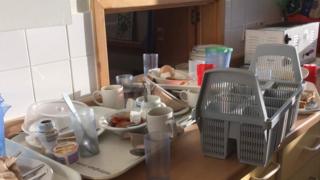 The firm responsible for cleaning Nottingham's hospitals should be sacked for its "abysmal" management, a health watchdog has said.
Healthwatch has raised concerns over an alleged rat sighting, dirty plates and overflowing bins at the Queen's Medical Centre and City Hospital.
It said Carillion, which provides the cleaning services, has shown a "poor record of cleanliness".
The private contractor said it had already introduced an improvement plan.
Martin Gawith, who chairs Healthwatch Nottinghamshire, said: "Carillion has shown that management has been abysmal with a poor record of cleanliness. They should hand the contract back."
Nottingham University Hospitals NHS Trust (NUH) has been demanding urgent improvements from Carillion for months after a series of problems were recorded.
In August, a rat was seen in a ward kitchen at Nottingham City Hospital.
NUH said the kitchen was reopened following a deep clean.
The trust believes Carillion's biggest problem is a shortage of about 70 cleaning staff.
In a statement, Carillion said: "We have put in place an improvement programme, which has resulted in no shortages with equipment.
"Additional staff are being recruited and we hope the health scrutiny committee will appreciate the improvements which have been achieved."
NUH has been presenting its evidence on Carillion's poor cleaning standards to a local council health scrutiny committee.
Some nursing staff were cleaning up themselves because they were not satisfied with the work done by the cleaning firm, the BBC has been told.
Carillion won the five-year contract for cleaning, laundry and catering services in 2014.
In July, hospital bosses said the cleaning contract could be terminated if standards did not improve.
The trust is expected to make a final decision on the cleaning contract at a later meeting.