Lawrence of Arabia's exploits 'backed up' by archaeology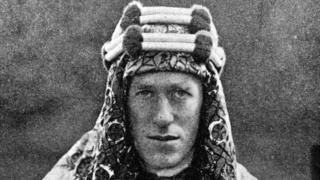 Archaeological remains that support Lawrence of Arabia's account of his World War One exploits have gone on display in the UK for the first time.
In his Seven Pillars of Wisdom, British officer TE Lawrence, documented how he helped lead an Arabic uprising against the Ottoman empire in 1916.
Some historians have cast doubt on his account as much of it was unverifiable.
Artefacts found in Jordan are on display at the National Civil War Centre in Newark, Nottinghamshire.
A trained archaeologist, Lawrence was feted during his lifetime as a hero who helped defeat the Ottoman Empire in the Middle East, leading small guerrilla forces.
Neil Faulkner, from the Great Arab Revolt Project (GARP), has spent the last 10 years working in the Jordanian desert, and comparing it with Lawrence's memoir of leading the Arab revolt, Seven Pillars of Wisdom.
He said: "Many people - critical biographers and commentators - have argued that he made a lot of it up, or at least exaggerated, his own role to the detriment of others.
"The fortified stations, the hilltop redoubts, the blockhouses, the Turkish army camps, even the overnight camps used by the Arabs and British special forces are there, exactly where he says they were.
"And everywhere we have traces of the firefights - spreads of expended munitions - cartridges, cartridge clips, bullets, shrapnel balls, etc - confirming the actions he reports.
"We have to conclude that Seven Pillars of Wisdom is an exceptionally comprehensive and reliable war memoir - perhaps, therefore, one of the greatest war memoirs every written."
Many of these artefacts have gone on display alongside the robes he wore in a photoshoot which helped catapult him to fame, a chest used to carry gold to pay Arab chiefs, and a recreation of a Bedouin tent at Newark's Civil War Museum.
In the 1920s, Lawrence transferred to the RAF and was based at Cranwell in Lincolnshire, from where he would ride his famed Brough motorbike to Newark once a week to play snooker.