MP Anna Soubry contacts police over 'Jo Cox' tweet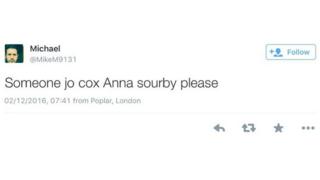 A Remain-supporting Conservative MP has contacted police after a Twitter post asking someone to "Jo Cox" her emerged.
The tweet, directed at MP Anna Soubry but misspelling her name, said "Someone jo cox Anna sourby please", in reference to the murder of Labour MP Jo Cox the week before the EU referendum.
Thomas Mair, 53, who shot Mrs Cox in June, was jailed for life last week.
Ms Soubry responded by saying: "This is what has happened to our politics. Tolerance & free speech must prevail."
She added: "Take it that wasn't a spelling mistake. You're a sad cowardly troll."
A tweet from the same account then replied: "lol get jo coxed you old bint".
Updates on this story and more from Nottinghamshire
Ms Soubry told BBC Radio Nottingham she was "very disturbed" by the post and had reported it to Nottinghamshire Police, who confirmed they have launched an investigation.
"Nottinghamshire Police has been made aware of reports of threats being made against an individual on Twitter and take such reports seriously. As a result we have started an investigation," a force spokesman said.
Ms Soubry added the tweet was the "second of two death threats" she had received in a week.
"Somebody had rung the office on Wednesday and made a number of threats to harm me in the same way that Jo Cox was harmed... so we reported that," she said.
"I reported it also to my local inspector... who has taken it seriously. Unfortunately the Parliamentary Authorities did not advance it in the way they should have done.
"I was tweeting about the Richmond by-election, and I happened to see this request that I should be 'Jo Cox'd', in other words murdered.
"I have reported that again to the police and the Parliamentary Authorities also saw it and got on to me but I'm afraid it wasn't taken as seriously as it should have been, but it is now."
She added: "It's almost as if Jo was never murdered.
"It's surreal actually, that that terrible and dreadful event has almost been erased and we've gone back to the language, we've gone back to the way of doing politics which we all promised we wouldn't after Jo was murdered.
"The abuse on Twitter has gone back up again from almost all sides - from both the left and the extreme right - and it all needs to stop."
The account responsible for the tweet can no longer be found.
Hundreds of people have taken to the social media platform in support of Ms Soubry.
Councillor Paul Canal wrote: "That's an incitement to murder Anna. Appalling, ignorant, unacceptable. Report it."
Ian Freshwater said: "Very sorry to see vile hate speech such as this - please stay strong; you will be vindicated!"
Jan Davies added: "Violent threats appear to be disproportionally directed at women too - something ugly & misogynistic being revealed."
Jon Connorton said: "That made me gasp. Nobody deserves that. Disgusting."
A Twitter spokesman told the BBC the organisation did not comment on individual accounts "for privacy and security reasons".