'Last' cockle man Dave Bartram cancer diagnosis after Nottingham attack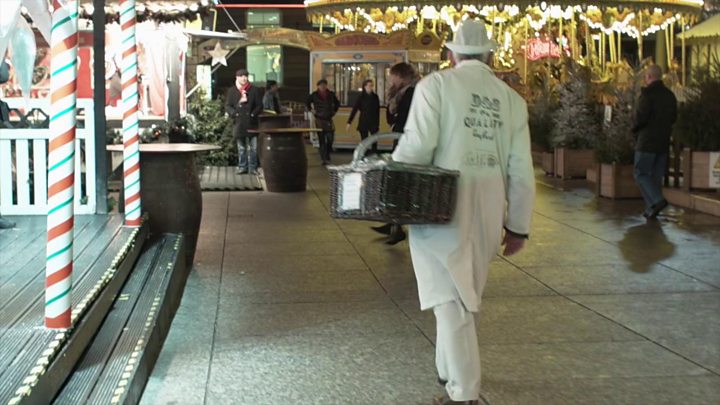 A cockle man believed to be one of the last traders of his kind left in the UK has revealed being beaten up on his rounds inadvertently saved his life.
Dave Bartram, 70, who has toured Nottingham's pubs on foot for over 50 years, said his ribs were broken during an attempted robbery in early March.
Mr Bartram said he discovered he had early-stage cancer when he visited a doctor about his injuries.
Despite the trauma of the attack, he said the robbers "did him a favour".
Mr Bartram, who was the subject of a film titled The Cockle Man in 2014, has sold prawns, cockles and mussels for seven days a week since 1964, when he worked for a local fishmonger.
He said he has been attacked a number of times over the years, some of which he fended off with his basket.
In the latest attack, he said two thieves tried to steal his collection tin for a children's charity in a back street in Nottingham city centre.
It was only after later being examined by a doctor, he discovered he had cancer.
"It's serious, but not that serious, they've got it [the cancer] early, I don't need chemo," he said.
"[The robbers] have done me a favour."
Updates on this story and more from Nottinghamshire
The attack has left him contemplating retirement.
But Mr Bartram defiantly said: "It crossed my mind, but why should I? I had two days off and the phone kept ringing.
"People love me in Nottingham. I want to carry on, I don't want to be sitting at home, I want to be mixing with people.
He said he has "struggled" on but has cut down his hours due to the pain from his ribs.
Mr Bartram has not yet reported the attack to police.