Scale of Nottinghamshire historical abuse inquiry revealed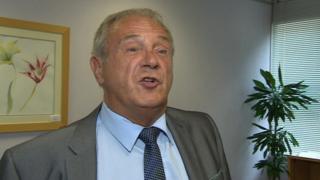 Information about historical child sex abuse across Nottinghamshire runs to "tens of thousands of pages," an inquiry has heard.
The claims about the scale of the investigation were made at the opening of a preliminary hearing into abuse in the county.
The probe will form part of the national Independent Inquiry into Child Sexual Abuse (IICSA).
Counsel for the inquiry said the work required "cannot be underestimated".
The Nottinghamshire arm of the inquiry is one of 13 areas of public life being scrutinised for child protection failings, ranging from the Army to the Roman Catholic church.
Inquiry counsel Patrick Sadd said the information they were scrutinising included submissions from councils, police, the Crown Prosecution Service and the Department of Health.
The hearing was told 69 complainants had "core participant" status, which allows them access to documents and the right to make legal submissions - but does not affect giving evidence.
Taking applications for core participant status, Caoilfhionn Gallagher QC, who represents two brothers, told the hearing that they witnessed the sexual abuse of their sister.
One brother has post-traumatic stress disorder while the other is "particularly vulnerable and traumatised" and "both are fighting to have their voices heard", she said.
A separate Nottinghamshire Police investigation into abuse has been going since 2011.
Operation Equinox has had more than 300 men and women make 680 separate allegations.
Speaking outside the hearing, Micky Summers, an abuse survivor and long-term campaigner for an investigation, said: "This is amazing.
"I may not see my perpetrators to justice but if we can see the people who hid it held accountable, then that will be a brilliant job".
Decisions on remaining parties who have applied to be part of the inquiry will be made at a later date.