Charges after Chilwell car crash sawn-off shotgun find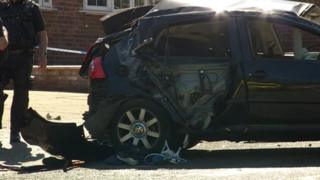 Two men have been charged after a sawn-off shotgun was found following a car crash in Nottinghamshire.
The collision, at School Lane and Field Lane in Chilwell on 5 May, involved at least two vehicles.
A 24-year-old man was charged with possession of a firearm with intent to cause fear of violence and possession of a shortened shotgun.
Another man, 23, arrested on Thursday in Bulwell, has been charged with the same offences and dangerous driving.
Both men have been remanded into custody.