Beeston Marina river death: Owen Jenkins, 12, was 'hero'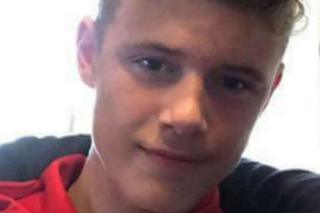 The family of a 12-year-old boy, who died trying to rescue a girl from a weir, has described him as a "hero".
Owen Jenkins went missing in the River Trent near Beeston Marina, Nottinghamshire, on Monday afternoon.
Tributes have been paid to the boy, whose body was found in the water during a major search operation.
His great aunt, Liz Ryan, said: "He went in the water to save a girl and help her get out, and he couldn't swim much himself.
"We don't know the full story but all we know is that he is a hero."
In a statement his parents, Nicola and Gary Jenkins, said: "Our little boy, our English rose, our champion will be missed and never forgotten.
"We wish to thank all of the emergency services, who have been amazing, and all of the people that helped to look for Owen."
More on this and other stories across Nottinghamshire
A Facebook post by the boy's rugby team, Nottingham Casuals RFC, said: "It is with profound sadness and regret that we confirm the loss of 12-year-old Owen Jenkins who died at Beeston Weir last night.
"We cannot express how deep our sorrow is and our thoughts are with Owen's family and friends.
"Owen has played Rugby for Nottingham Casuals RFC since he was 7 and was loved [by] his teammates and everyone he came into contact with.
"His teammates are in bits this morning."
Ian Brierly, head teacher at Chilwell School where Owen was a student, described him as an "enthusiastic and gregarious young man".
"He was an exceptional sportsman and we recently celebrated his success from sports day when he broke several long-standing school records; most notably the 200m.
"Owen was a key member of our community and we are heartbroken at his loss," he added.
Anna Soubry, Conservative MP for Broxtowe, tweeted Owen had "lost his life in the Trent trying to help others".
The MP also raised the issue in the House of Commons, calling for government action to co-ordinate safety measures around open water.
"This is a terrible accident and everyone's thoughts are with Owen's family and friends," she said.
Narrow boat owner Brad O'Riordan said the water at Riverside Road, near to where Owen was last seen, was very dangerous.
He said: "It's a very fast current there. I don't think the kids realise what they're getting into when they go into the water."
About 30 firefighters helped with the search, which involved three power boats, a police helicopter and an air ambulance.
---
At the scene, Dave Wade, BBC Nottingham
There was a sombre mood among the barge owners and dog walkers at Beeston Marina early this morning.
Some described seeing the boy entering the water to help a pair of girls who had got into trouble at the weir.
One barge owner told me the 12-year-old was standing on the weir when he picked a girl out, but his legs gave way and he never surfaced.
Many had questions over safety at the beauty spot, which is a magnet for youngsters when the weather is good.
Most people I spoke to said lifebelts had been stolen or vandalised.
---