Family upset after teen memorial stolen from crash site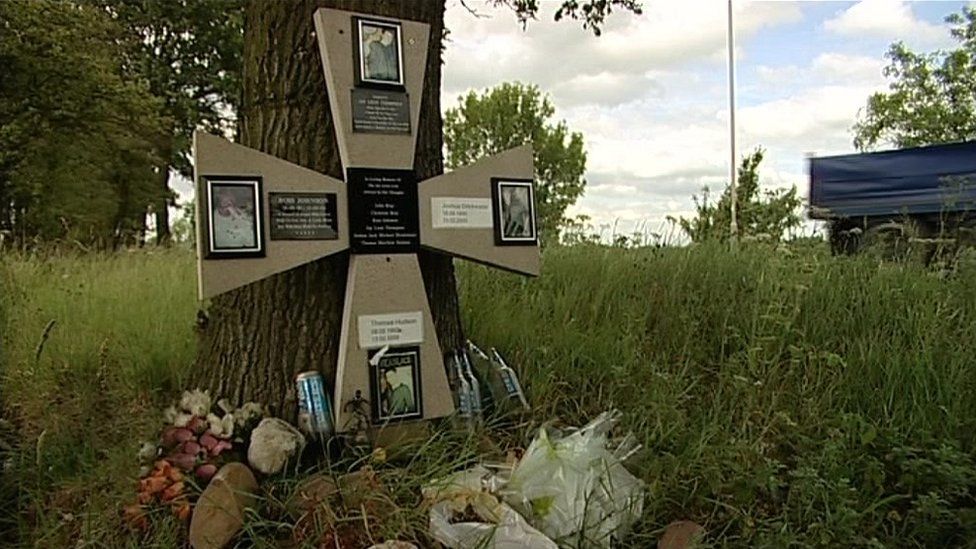 The father of one of four teenagers who died in a road crash says a memorial he made for them has been stolen.
Jay Thompson, 18, was one of six people who died in the crash on the A614 in Nottinghamshire in February 2009.
His father Paul Thompson made the memorial which has stood close to the crash spot for eight years.
Mr Thompson said he had contacted the district council and the Highways Agency about the missing cross after noticing it had gone on Sunday.
"I just don't know where it has gone and I can't find out anything about it at the moment," he added.
Ross Johnson, 19, Thomas Hudson, 17, and Joshua Drinkwater 18, all from north Nottinghamshire, were with Jay when their car collided head-on with a vehicle driven by Jonathan and Christine Bray, of Edwinstone.
All six of them died at the scene.
Mr Thompson has appealed to whoever took the 4ft cross to return it.
He added: "It has been here for the past eight years and has never been touched or anything and now it has just disappeared.
"All the families come up here on the anniversaries and birthdays and Christmas and stuff like that and have been doing it for the past eight years.
"Now there is nothing to come to now."
After an inquest the coroner concluded the accident happened as a result of "inappropriate overtaking" by the driver of the teenagers' car.
Since the accident, the speed limit on that stretch of the A614 has been reduced from 60mph to 50mph and average speed cameras have been fitted.