Arrest as child abduction scare prompts police search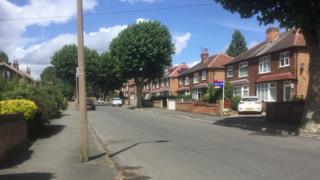 A man is in custody after a girl was reportedly followed into a house.
A man was spotted acting "suspiciously" in Central Avenue in the Beeston area of Nottinghamshire just after 16:30 BST on Wednesday.
Police said they put in place a "mass operation" using both cars and vans and thanked members of the public who helped them track down the man.
Officers confirmed a 36-year-old man had been arrested on suspicion of attempted child abduction.
Updates on this story and more from the East Midlands
Neighbourhood Inspector Steve Wragg said: "Last night was a mass police operation and because of the nature of the calls we received a large number of police - about 15 officers with cars and vans - were deployed to the area to locate the individual.
"Following extensive searches and some great help from the community, we located the suspect and they are in custody.
"Following our initial search, the male was not detained, however further calls from the public meant after a couple of hours he was detained."
Police confirmed a number of witnesses were being spoken to by specialist officers and CCTV was being studied.
Local resident Chris Brentnall said: "People have responded in quite a positive way.
"This is a small community and there's a good spirit. Now he has been caught, people are pretty calm."