Helmet 'saves' triathlete's life in hit-and-run crash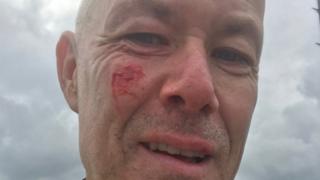 A triathlete who says his life was saved by a helmet after a hit-and-run crash has urged fellow cyclists to invest in good equipment.
Phil Williams, 48, of Nottinghamshire, was taking part in a triathlon when a car accelerated out of a crossroads and collided with him on 23 July.
The father-of-three was flung over the car bonnet, head first, into the road.
Police are appealing for the driver and passenger of the Nissan Micra car involved to come forward.
Updates on this story and more from the East Midlands.
Mr Williams said when he bought his £130 helmet, he thought he had overspent.
He said: "Read the reviews first and get the best helmet you can. Don't get a cheap helmet. The money is so worth it.
"I can't believe how much this has saved my life."
Mr Williams, of West Bridgford, said every morning he still woke up in pain and relived the crash. He said what affected him most was that the driver did not stop.
He added: "Why would anybody not stop to see what happened?"
Mr Williams was cycling on a downhill stretch of the A614 during Nottingham's Outlaw Triathlon when the crash happened.
He said it was about midday and he saw a stationary car ahead waiting to pull out, but then it started accelerating.
"They must have got the timing wrong, the car came across and accelerated into me when I was doing about 35mph.
"It is all really a blur from that point. I remember looking round and thinking firstly, 'I am alive'. Then I turned around to see the car driving off."
Mr Williams suffered a dislocated shoulder, cracked elbow, facial scarring and stitching, damage to wrist joints and bad bruising and grazing to his legs, shoulders, and hands.