Slave labour family 'on the run' in Canada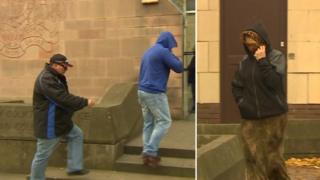 A family from Nottingham, who forced a Polish man to work as a "modern slave", has fled to Canada, a court has heard.
Dariusz and Bozena Parczewski, along with their 29-year-old son Krystian, fled first to Poland before their trial at Nottingham Crown Court in July.
Efforts are being made to extradite them.
A jury found Dariusz guilty of fraud and forced labour and Bozena, who was unfit to plead, to have committed the acts of forced labour and fraud.
Krystian was found guilty of fraud. The trial was held in their absence.
The couple and their son took part in what was described as "industrial scale benefit fraud".
More updates from across the East Midlands
The court heard the Parcewskis had lured Polish men to Nottingham with offers of houses and well-paid jobs, but then crammed them into squalid caravans.
They forced one victim to work at Sports Direct's headquarters in Shirebrook, Derbyshire but kept most of his wages.
Sports Direct has not been accused of any wrongdoing.
The Parczewskis' Polish passports were confiscated by Nottinghamshire Police, but the court heard they possibly obtained replacement Polish travel documents before leaving for Canada.