Mixed reaction as Christmas cards go on sale in August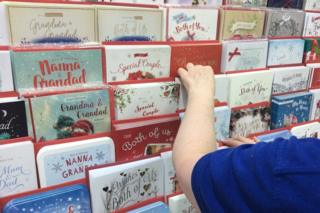 Shoppers have reacted with a mix of anger, bewilderment and joy to the sight of Christmas cards on sale in summer.
Card Factory shops nationwide put out festive displays on 14 August - more than four months before Christmas.
But Roberta Greenwood, manager of a branch in Nottingham, said customers were already buying them.
She currently has three racks of Christmas cards but plans to double this by the first week of September.
"We get people from Spain who live abroad and can't get them there, or if they can, they are expensive there," she said.
"We also get people who want to stagger it out leading up to Christmas, you know, if you've got a big family."
Despite working in a card shop, Ms Greenwood admitted that she will not be buying her own Christmas cards until December.
"I get mine a couple of days before Christmas if I can remember," she said.
"We can be really busy on Christmas Eve, which is really surprising."
Surprised customers across the country have been taking photos of the cards and sharing them on social media.
PaulD22 tweeted: "Spotted Christmas cards in the card factory today! Fought the urge to push the stand over"
Emma Craig tweeted: "Seriously?! The Card Factory are selling Christmas cards already! It's August guys!"
But babj j was more positive, tweeting: "is it sad that seeing Christmas cards in card factory today made me v happy"